Kansas City Magician Scott Henderson
When you choose Kansas City Magician Magic Scott, you get a magician with over 15 years experience performing all types of family-friendly magic shows.
Scott lives with his family in Overland Park, KS and performs a spectacular magic show for all audiences - from birthday parties to school assemblies and even corporate shows. Although most shows are in Kansas City, he is asked to perform throughout Kansas and Missouri.
This will be the birthday party they'll remember for the rest of their life.
Corporate magic shows, private parties, or shows tailored for adults? See MagicScott.com. (Scott has a completely different show for adults, it is centered around sleight of hand and mind reading.)
Teachers, PTO/PTA, and School Administrators: Use magic to educate, entertain, and enforce a positive message in a fun way! Contact Magic Scott to learn about a great peer pressure or anti-bullying magic show.
"Scott Henderson wows..."
Kansas City Star
"The young women look, as you might expect, thunderstruck."
Kansas City Star
You're going to love looking at the kids faces throughout the show, to see their delight and amazement. Eyes will pop out of their heads, jaws will drop to the floor, and they'll all cheer for your child -- after all, your child is the star of the show!
And imagine this, after the show, your child will run up to you, and give you the biggest hug in the world and say "That was the best birthday party EVER!"
A Fun, Entertaining and Exciting Birthday Party - Guaranteed!
Sit back and relax as Magic Scott performs his birthday party magic show — after all, you've got the best birthday party magician in Kansas City. The show is packed full of audience participation, fun, laughter and surprises! The birthday child will be the star of the show, with plenty of great photo opportunities. The audience gets to help make the magic happen - they'll help make things appear, disappear, float, change colors and more. Most tricks use at least one child from the audience, for maximum laughter and fun! For the big finale: See your child levitate three feet in the air!
Your Next step:
Contact Kansas City Magician Scott Henderson for a lightning-fast price quote and to check availability!
"Scott, did an excellent job making our daughter the center of attention for her birthday party, while at the same time getting every one of her friends to be part of the show." -- Marcus Kean
Truly Amazing Magic For Parents Too!
Every illusion that will be performed isn't just entertaining, it's magical. It's common for the parents or grandparents to come up after the show and say "You even impressed ME!! I have no idea how you did that!"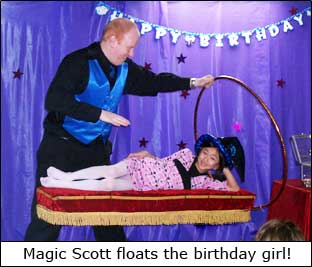 The show isn't just for kids! I've packed it full of fun tricks and shenanigans, and I've sneaked in a few tricks that you'll be telling your buddies about. Prepare to be fooled by Houdini, the mind reading bunny. (Don't worry, he's stuffed!).
Every trick must meet high standards. If it doesn't entertain, wow, amaze and delight everyone in the audience - then I won't use it! Don't miss the magic video demos to see some demo tricks performed from a birthday party.
Moms and Dads: It's Easy for you
The entire show is self-contained. All you need to provide is a clear area for the performance. The magic shows usually take place in a living room or a party room in a finished basement. After a quick 20-25 minute setup, the show is ready to begin. All you have to do is call or email with your details. Just contact Scott Today to get started!
"Scott was very organized. He is excellent with the kids and getting them involved in the show." -- Tricia Seitz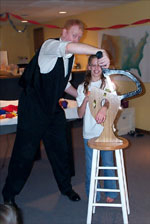 Magic Shows Tailored to different age groups
One reason the birthday magic shows are so successful is because the tricks have been carefully selected for the appropriate age. For example, for children aged 7 and up, I perform a card trick that just might be the best card trick you'll ever see. BUT - a four year old would much rather enjoy seeing lines appear from a blank coloring book. Also, as you'll see on the Magic Show Packages page, I also offer a magic teaching session that involves a shorter magic show, and I'll teach several great magic tricks to the audience.
Insist on Magic Scott. There really is a difference. 15 + years of performing kids shows, and they just keep getting funnier, more amazing, and more enjoyable with every show. Hundreds of birthday parties, school, daycare shows, and private events.
Appearances on TV and in newspapers:
KC Star FYI
The KU Report
The University Daily Kansan
FOX's Kansas City Morning TV Show
The Kansas City Star's Star Magazine
plus featured in many local newspapers around the midwest.
Better check Kansas City's Favorite Magician's schedule before you send out invitations!
The ultimate compliment
I often have mothers calling me up months later to perform the same show for an older brother or sister's birthday party - that is the ultimate compliment! They had so much fun that they want the exact same experience for their other child! (That must be why Scott get's most of his business from referrals from moms all around the Kansas City, Overland Park, and Lee's Summit area.)
"All turned out great! He kept twenty 5 year olds and their parents entertained and engaged for the entire show. The kids have been talking about it all week at school. No one else's party will top this one! Thanks, Scott!" -- Sandra Wilds
Reserve Scott Now
Availability does disappear fast!
Click Here to Reserve Scott for your party or call (913) 219-7804.
If you're looking for a magician in Kansas City, whether that's in Overland Park, Leawood, Lenexa, Olathe or any other city in Kansas, call Scott. And if you're on the Missouri side, and live in Lee's Summit, Grandview, or good old Kansas City, Missouri, hiring Magic Scott for your next event will be a great choice.
Contact Scott... Saturdays always fill up with shows, so be sure to call soon!